Colorado Rustic Mountain Pine Plantation Shutter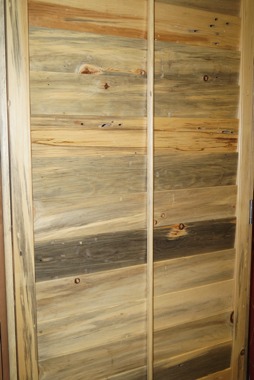 Blind Corners & Curves is pleased to announce the exclusive introduction of the Colorado Rustic Mountain Pine Shutter. With its distinctive coloration and worm holes this shutter is made from reclaimed pine bark beetle kill wood. This spectacular shutter is not only beautiful but has a "green" story as well.
The popular decorating scheme dubbed Colorado contemporary or "mountain modern" uses rustic materials like wood and stone in contemporary ways. The distinct look of beetle-kill pine — produced by the infestation — also strikes a chord with home design fans. Though the interior wood of the tree remains unchanged and structurally sound, a blue fungus carried by the beetles stains the wood, leaving stunning blue, green and gray streaks. This reclaimed wood has been used in truly distinct custom crafted cabinets and furniture.
Over three million acres of Colorado forests have been affected by the current mountain pine beetle epidemic. With U.S. Forest Service estimates that some 98,000 trees a day are falling in the American West from the pine-beetle infestation, the availability of this wood is bolstering mountain modern decorating and the craftspeople who cater to it.