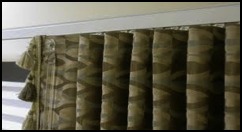 Ripple Fold Style
The Ripple Fold is an ultra-contemporary style of pleat-less traversing drapery panel. This smooth-looking style compliments the most modern spaces in need of a clean, minimalist style.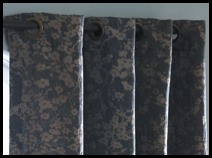 Grommet Style
Grommet Style drapes incorporate a soft, folding panel in which a decorative pole passes through grommets at the top of the panel. This application has a wide assortment of styles, shapes and colors to suit your preferences.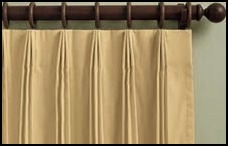 Euro Pleat Panel
The Euro Pleat Panel style can be used with either a traverse rod or a decorative rod. This style is composed of triple-fold pinch pleat drapes tacked at the top to create the Euro Pleat.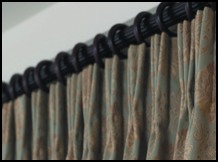 Pinch Pleat Curtains
The pinch pleat drape has long been one of the most popular styles of pleat for a traversing drapery. This style pinches periodically at the top, creating a loose fold down throughout the drape.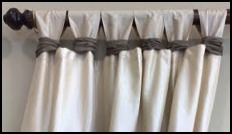 Gathered Tab Top
The Gathered Tab Top style is an interesting variation of the traditional tab top. It incorporates a decorative sleeve around each tab that can be made with a contrasting fabric to create a more unique look, and to incorporate more colors from the design scheme of the room.
Flowing Style
The Flowing Style has soft, more casually hanging pleats which attach to the rod with ring clips. This is a beautiful, comfortable looking option.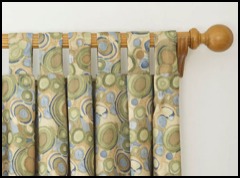 Traditional Tab Top Style
This style incorporates tabs at the top which function as the hangers of the drapes. The Traditional Tab Top Style can be used with either stationary panels or occasional hand traversing.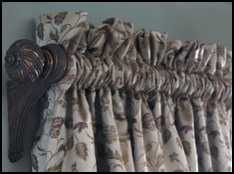 Rod Pocket Style
Clean and simple, the Rod Pocket Style is suited for stationary panels that are not intended to traverse. This style is meant to sit tightly on a rod, and with many variations, it can look fantastic in any style of room.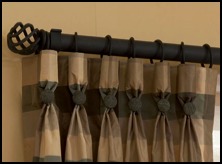 Goblet Pleat Style

More full and round than other pleat styles, the Goblet Pleat Style gives a robust body to the drape panel. This fits beautifully in more traditionally styled homes.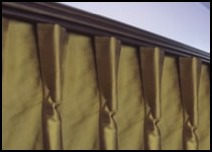 Inverted Pleat Style
The Inverted Pleat is a stylish twist on the traditional pinch pleat drapery. This style offers the option for sliding, and it looks beautiful with a wide array of decorating tastes.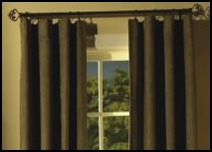 Flat Panel Style
The simple folds of a Flat Panel Style are often attached to a decorative rod. This offers a kind of blank slate to work with for your draperies, and the rod you choose and can really add an interesting flare.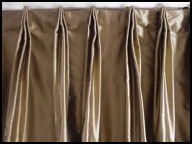 Classic French Pleat
The Classic French Pleat Panel is a triple-fold pinch pleat which is then tacked at the bottom to create a Classic French Pleat. This classic style is customizable to flow with your homes' look and feel as well.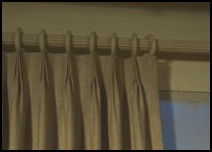 Crown Pleat Style
Tight and neat, the Crown Pleat provides for a neat minimalist look to the drapery.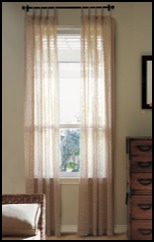 Camisole Panel
The camisole panel is an unpleated style which can be created with options from 200% or more fullness to no built-in fullness
Rod Top Bottom Panel
The Rod Top Bottom Panel is an un-pleated style, which can add visual interest to a window while helping to disguise hardware and brackets. This method holds the curtains in place from top and bottom.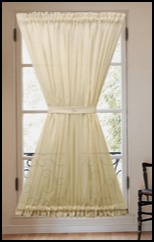 Hourglass Rod Top Bottom Panel
The Hourglass Rod Top Bottom Panel with ruffles will help to disguise hardware brackets and help ensure there are no gaps at top and bottom. This style also lets a small amount of natural light into your space by not completely covering the visible glass.
Reverse Hourglass Rod Top Bottom Panel
The Hourglass Rod Top Bottom Panel with ruffles will help to keep hardware and brackets hidden, and will help ensure there are no gaps at top or bottom.