Pirouette Window Shadings from Hunter Douglas
The personality of a classic fabric shade with the ability to control light in an entirely new way.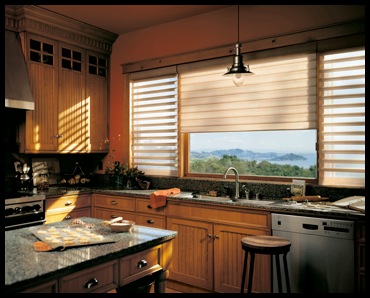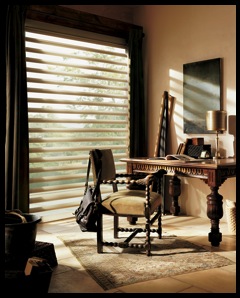 At the heart of Pirouette® window shadings is the revolutionary Invisi-Lift system. This innovative system allows the horizontal fabric vanes to float gracefully in the window, offering a stunning appearance combined with precise light control and superior view-through. And, with semi-opaque and room-darkening options available in both vane sizes and all 44 fabric and color combinations, you can have it all, making Pirouette shadings the perfect complement to any room in your home.

Key Features of Pirouette Window Shadings:
Semi-opaque and room-darkening fabrics in two vane sizes, 4" Petite and 5" Grande.
Three beautifully textured fabric styles - Crepe, Linen and satin - in a palette of 44 color options.
Matching fabric-covered headrail and bottom rail create a unified look from top to bottom.
The headrail conceals and protects the shading when raised - no fabric stack to obstruct the outside view.
Offered with a choice of two proven lifting systems.
Color-coordinated hardware and cords.
Pirouette Motorization - Click Here to view our Motorized Pirouette video.
Easy Operation
The soft, elegant fashion and function of Pirouette window shadings makes this remarkable window covering truly a unique innovation. With the gentle pull of an operating cord, textured fabric in a palette of delightful colors transforms from cascading folds to contoured vanes, allowing a softened outside view through the sheer backing.
One of the important benefits of Pirouette window shadings is ease of operation. A contin­uous cord loop, which works on the principle of a pulley, rotates a clutch to raise or lower the shading. Referring to the illustration at right, from the fully raised position, pull down on the rear cord of the cord loop to lower the shading (1, 2). In the fully lowered position, continue to pull on the rear cord to open the vanes (3, 4). Pull on the front cord to close the vanes and raise the shading (5, 6).